So a while back, about one or two years ago, on my doll blog I was pimping out this house across the street and to the left of my house that was just finished being built and for sale.  I was encouraging my hobby buddies to move in and be my neighbor.  That house was finally bought by a young guy in the military, his girlfriend, his baby, girlfriend's mother, and his roommate.  Yep, packed house.  LOL!  But the same builder who built his house built the one directly in front of my house.  So now I'm offering this one to you.  LOL!  But I don't know how excited you will be now knowing I keep such a watchful eye out.  LOL!  But look at it this way, you'd have the neighborhood watch right across the street from you.  What's not to love???  You're welcome. 
So I guess I should show you the house you will be buying then. 
  Here goes, here are some pictures of what it looked like while being built.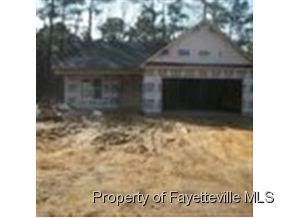 Sorry for the blurry picture, this is how it was on the site.  This is the house's early beginnings.  Before this much was done we were trying to figure out which way the house would face.  This house is on a corner and could face either way.  Usually houses on the corner in this neighborhood faces the side street that connects with the main street.  But this house faces out onto the main street towards us.
Side view of the house from the street it connects with.  The garage is huge.  Much Bigger than ours.  And those windows on the side are I believe two of the three bedrooms.  Funny, these pictures were taken about a year ago.

Back view of the house.  This lot it is on used to be wooded, so a good bulk of the trees remain on it.  So what you are seeing is the back door and a living room window and kitchen window.
Ok, so the next pictures are the outside view after it was finished being built.
This is a distance picture of the house.  This past December or January my mom took an awesome picture of the port-a-potty covered with snow.  Just had to mention that.  I think it is horrible the relator decided to keep that in the picture.  Why didn't they photoshop it out?  But I digress.  So this house is a heather gray color.
A little closer view.  The door has a little window next to it, two big windows up front from I believe the kitchen, don't quote me on that, and a double garage.  And it has a security light in back.  Please don't use it, it's bright and annoying.  I might have to stop being your friend if you use it.
Now we pop inside the house.
Walking in from the door you can see the living room with a lovely fireplace.  Perfect for those cold autumn and winter nights.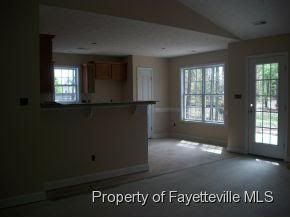 The spacious and open living room, dining room, and kitchen area along with the back door.
Just look at that crown molding.  Gives a special look and class to the room, don't you think?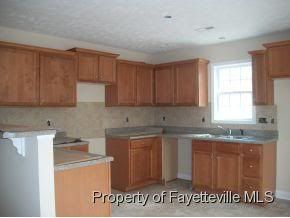 Here's the kitchen.  Big and open with plenty of storage space.  And so brightly lit in the daytime and opened into the living area so you can stay connected with the whole house.  Now if you'll just follow me down the hall to the guest bathroom.
A good size bathroom for guests and the rest of the family to use.  You have a bathtub and shower combination, standard toilet, and sink with counter space for odds-n-ends.  Let me show you the master bathroom.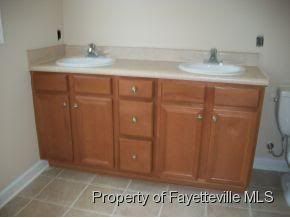 A double vanity. Isn't that nice?  No fighting for the mirror or sink with your husband or wife, you've got your own space. 
And of course you have a toilet, and bathtub and shower combination.  Kind of wish it was a garden tub like the house next door and it doesn't seem like it got the frosted glass like the house next door either. Bummer.  But still very nice. 
And then the umm…walk-in closet in the master bedroom?  Humm, doesn't look like much does it?  Kind of a bummer also, but has room for tons of improvement, or you can maybe change it to a crafty nook if you have other closet options like a wardrobe.  Be creative. 
Thank you for touring the house and I hope you saw something of interest that makes you consider buying it.  What?  Oh you want to know the price?  Ummm…well umm…keep in mind it used to be $139,950.  The builder recently dropped it to $136,950.  Pretty awesome right?  Which means you only have a monthly payment of $805. 
  So, what do you think?  Want to be my neighbor?  Let me know in the comments and I'll get the needed info to you asap. 


Ok, so I had to be playful today.  I was joking with friends today that they needed to come buy the house so I could stop wondering who will move in.  It's been on the market for months now and I just want someone to move in already.  And it seems the builder feels the same way since he dropped the price in July.  They recently had an open house, and still no takers.  Who knows, maybe one day soon someone will move in and the mystery will be over.  But I swear, if they use that security light, there'll be a price to pay!!!  *shakes fist in air*
And I'm off people.  I've got another house related post for you, but this one is actually craft related.  No, I'm serious.  Give me a bit and I'll post it for you.  Trust me, you'll be in awe. 
   Until then, be good.  Bye for now.
Still wondering who will move in,
Michelle